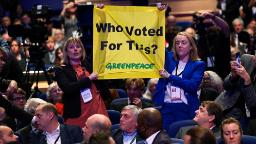 CNN
 — 

Protesters from the environmental group Greenpeace were ejected from the Conservative Party conference on Wednesday after disrupting British Prime Minister Liz Truss's first speech as leader.
Two female activists held up a flag that read "Who voted for this?" before they were escorted out of the conference center in Birmingham by security guards as the crowd booed.
"Let's get them removed," said Truss, to applause. Truss quipped following their removal that the "anti-growth coalition" had arrived at the hall "a bit too early."
The conference was taking place amid party dissent following a screeching U-turn on Monday over a proposal to cut the top rate of UK income tax. The move was seen as insensitively helping the rich at the same time as Britons are living through the worst cost-of-living crisis for decades.
Truss started off her speech by saying the country is in a new era dealing with a global economic crisis and that "in these tough times, we need to step up."
"We gather at a vital time for the UK," she said adding that "these are stormy days."
"We're dealing with the global economic crisis caused by Covid and by Putin's appalling war in Ukraine. In these tough times, we need to step up," she also said.
"I am determined to get Britain moving," she added and "to put us on a strongest footing as a nation."